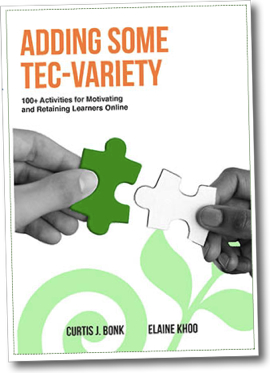 A bit over two years ago, more than 3,500 people enrolled in the first Blackboard MOOC on "Instructional Strategies and Technology Tools for Online Success" with Professor Curtis J. Bonk from Indiana University. This course helped to set the stage for this exemplary course MOOC! In one of the synchronous sessions of that course, Dr. Bonk presented his online motivation framework called TEC-VARIETY with each letter representing a motivational principle backed by decades of research on human motivation. In a polling item at the end of that session, his MOOC participants overwhelmingly voted that Curt's next book on online motivation and retention should be free to the world as an e-book.
Well, guess what? He did just that! After nearly 15 years of planning and 3 years of writing, his new book, "Adding Some TEC-VARIETY: 100+ Activities for Motivating and Retaining Learners Online" is done. And Curt Bonk has made this book FREE for anyone as an interactive PDF document both by chapter as well as in total. Explore the book homepage and you will find a download link for the entire 382 page book (http://tec-variety.com/). More important, there are dozens of low risk, low cost, low time activities featured in the book. In addition, each individual chapter is free to separately download and share with your students, trainees, colleagues, and administrators (see http://tec-variety.com/freestuff.php). You can find chapters on creating a safe tone or climate, learner engagement, online collaboration, interactivity, encouragement and feedback, learner autonomy, goal setting, and much more. You even can find a chapter on ways to support instructors who might remain hesitant or a tad resistant to online or blended instruction.
According to Professor Bonk and his co-author, Dr. Elaine Khoo of the University of Waikato in New Zealand, you are free to download, use, share, and, with permission, even translate any part of the book (for more details, see the Creative Commons license in the copyright page of the book). Adding Some TEC-VARIETY is already being translated into Chinese by scholars at Beijing Normal University as a free e-book. If you have any questions or comments about this new online motivation and retention book, you can contact Professor Bonk via email at curt@worldisopen.com.