While at BbWorld 2014, I have the privilege of accepting a Blackboard Catalyst Exemplary Course Award for my Blackboard course, ETT 510: Instructional Media and Technology, which I designed and taught online during Fall 2013. This course was reviewed by the Blackboard Exemplary Course Program and received the distinction of being named an Exemplary Course.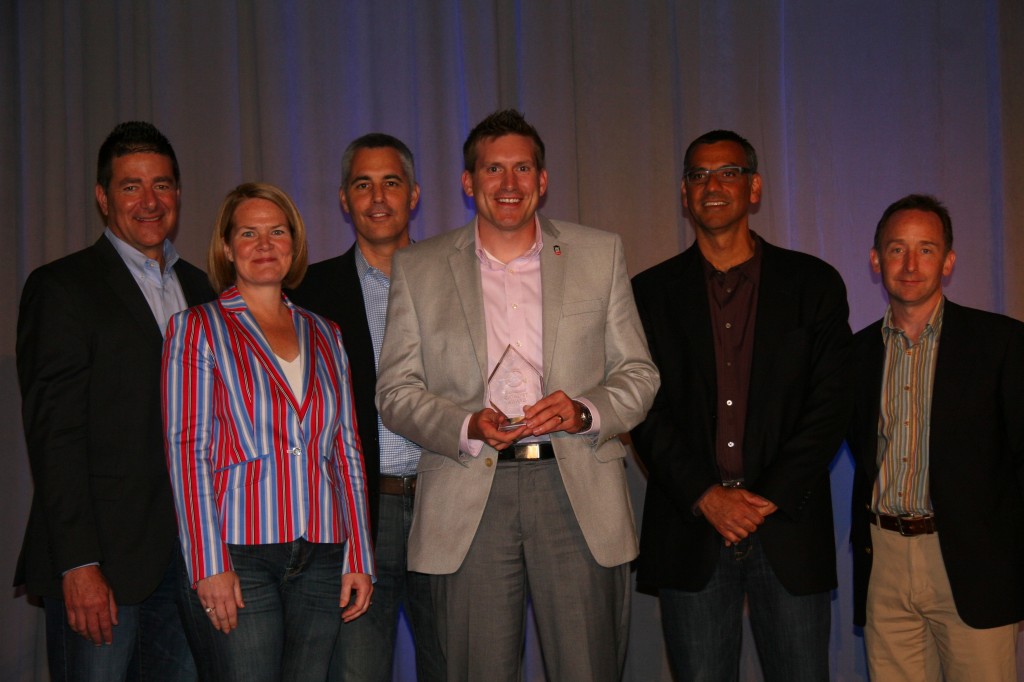 Jason Rhode receiving Blackboard Catalyst Exemplary Course Award at BbWorld14
While I've previously shared feedback from reviewers, course tour highlighting notable elements of the course design, and even made the entire course available to self-enroll and/or download as OER package, I thought I'd also share below the other kind "kudos" I've received related to this award thus far…photos from the awards presentation to be added later.
Congrats to @jrhode for winning the 2014 Blackboard Catalyst Award for Exemplary Course Design! http://t.co/e01znrhsvj

— NIU Education (@NIUCOE) July 14, 2014
The following announcement was sent by La Vonne Neal, Dean, NIU College of Education, on Monday, 7/14/14 in her "Monday Memo" to NIU Education faculty and staff:
This week I am proud to announce that Dr. Jason Rhode, an instructor in the Department of Educational Technology, Research and Assessment (ETRA) and director of NIU's Faculty Development and Instructional Design Center, has won the 2014 Blackboard Catalyst Award for Exemplary Course Design.

"ETT 510 Instructional Media and Technology," a required course for all ETRA master's degree students in technology specialist online cohorts, is the course receiving this honor. Last year, Rhode collaborated with ETRA faculty and staff to improve the course content and template of the ETT 510 class. They were so successful that the template has become the standard for all online ETRA cohorts.

The Blackboard award program is designed to enhance the visibility of the innovation occurring in institutions of higher learning and to recognize faculty and staff who are directly impacting educational programs. In 2014, over 200 entries were evaluated in a rigorous peer-review process by more than 300 faculty and instructional designers. NIU is among a distinguished group of winners in the Blackboard community. Blackboard will be celebrating the ingenuity of ETRA's collaboration and course design on July 17, 2014, at an award ceremony in Las Vegas.

It is clear to me that COE faculty and staff are leading the way in creating cutting-edge instructional technology, which ultimately furthers our scholars' academic and career success. I am so honored to be a part of an institution with leaders like Jason Rhode who continuously demonstrate excellence in online teaching and learning.

Dr. Rhode received the Blackboard Key to the Community Award in 2013. His staff at NIU's Faculty Development and Instructional Design Center also won the 2013 Blackboard Staff Development Catalyst Award, 2013 Blackboard Teaching and Learning Catalyst Award, 2012 Blackboard Catalyst Platinum Award for Community Collaboration, and the 2011 Blackboard Catalyst Award for Excellence in Online Professional Development.

Congratulations to Dr. Rhode and all ETRA faculty and staff members who collaboratively enhance our scholars' experiences in online learning.

La Vonne I. Neal, Dean
College of Education
Northern Illinois University