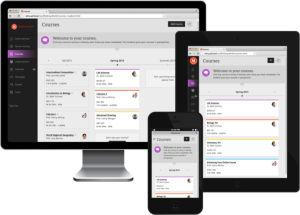 Over the next several days at BbWorld 2015, Blackboard is announcing and featuring through various venues its overhauled learning management system platform, referred to as Blackboard "Ultra". While I don't blog as often as I'd like, I felt this an important opportunity to share my initial thoughts on Ultra, also referred to as the Blackboard "New Learning Experience."
As a Blackboard MVP and someone who's both designed and taught award-winning online courses as well as supported Blackboard at my institution for almost 15 years, I feel I have a very well-informed position to offer my perspective. I was privileged to have been invited to participate in the Blackboard Learn Ultra and Blackboard Collaborate Ultra Tech Preview programs over the past few months and not only gained firsthand experience of Ultra by using it in a sandbox environment but also had opportunity to provide weekly feedback to developers throughout the latest development stages. It is from this informed position both of the current faculty and student use of the current "Learn" system as well as hands-on use of the new "Ultra" "New Learning Experience" (NLE) that I offer the following reflections.
Sleek, Mobile-First New User Interface
The Ultra user interface is a complete redesign and certainly offers a fresh, easy-to-use user experience. The Bb Learn user interface has seen little change over the past decade and Ultra updates the user experience to be on par with other current web and mobile applications that today's users are accustomed to.
Simplified Workflows
It is becoming infinitely simpler for faculty to quickly add content to a course and setup discussions. In designing Ultra, Bb focused on some of the most common tasks that lightweight faculty users just getting started using an LMS would seek to include (uploading content files, adding simple discussions, grading student work). For faculty who are using Bb primarily for a digital filing cabinet for their course materials and having basic discussion communications with students, they should find the tools they need and the associated workflows simpler than before.
Loss of Course Structure Choice
The more advanced faculty users who are accustomed to having more control of their course design and tailoring the student experience for their course will be frustrated in loosing control. The New Learning Experience embraces a newsfeed metaphor for displaying content and communications and doesn't permit any deviation from how information is presented. Course structure is restricted to a Course Content Outline view where folders for each week/module/unit can be created with sub-folders for content and activities. Online courses that utilize a course home page, include in-line HTML content, or use any sort of customized course navigation options will need to be completely redesigned and will not function as currently designed in a migration from Learn 9.1 to Ultra. This loss of choice feels in many ways likeBlackboard taking a page from Apple's playbook in restricting choice in an attempt to provide what it deems is the best experience for the user.
A Work in Progress, With a Long Way to Go
Many missing features at launch, including groups, blogs/wikis/journals, rubrics, tests/surveys/pools, to name a few. While there may be a few institutions who are already in the SaaS hosting environment and/or using just basic functionality in Learn with no customizations and may be eager to move to Ultra, I suspect that the majority of Blackboard customers will need to wait until many of the currently missing features in Ultra are developed. The good news is with Blackboard's new continuous delivery cycle new features can potentially be rolled-out much quicker. It still remains to be see at what pace Blackboard will be able to include new features in the new model moving forward.
Requires SaaS Cloud Hosting
This perhaps is the least publicized, yet most significant consideration and requirement for institutions moving forward…to migrate to Blackboard's Software as a Service (Saas) cloud hosting infrastructure. Many institutions, like mine, have opted to stay with a self-hosted deployment strategy in order to save costs and leverage our own internal IT expertise and retain more control on the timing and release of new features in order to be able to offer the needed faculty training and support. As a result of this approach, my institution has achieved an impressive 92% of faculty and 96% of students using Blackboard. We've opted to not be on the "bleeding edge" of Blackboard and are always at least 1 release behind purposely to avoid many of the system bugs that early adopters experience. Our Blackboard system is stable, reliable, and mission-critical. Transitioning to a new deployment model is not something our institution will take lightly and will most certainly result in increased costs.
Learn 9.1 Remains, But for How Long?
Blackboard CEO Jay Bhatt was very clear during his keynote presentation at BbWorld 2015 to state the Blackboard Learn 9.1 will continue on and be supported into the future. While I want to believe Jay and take him at his word, the undeniable fact is that Blackboard development can only be spread so thin and at some point, resources will likely be devoted to advancing Ultra at the detriment of Learn 9.1. I hope this isn't the case, but I am a realist.
Many Unanswered Questions
I have many, MANY unanswered questions at this point with more surfacing the more I ponder the prospect of moving to Ultra, a few of which include:
What features will be added to Ultra in the future and in what timeframe?
What about tools such as Portfolios, Content System eReserves, Outcomes Assessment, etc.? For institutions just rolling these tools out now, what is their shelf-life and will they ever be included in Ultra?
What current Learn 9.1 features and tools likely will never make it into Ultra?
What is involved (cost, development time, institutional re-integration) in a migration from self-hosted to SaaS cloud hosting?
How will the many, MANY feature-rich, fully online courses that faculty have designed over the years translate into the Ultra environment?
How would a faculty setting out today to design and build a course following Blackboard's Exemplary Course Program Rubric do so within the constraints of Ultra?
What about faculty and institutions that have adopted the Quality Matters rubric for online course quality? How would QM-certified courses be built out in Ultra?
Cautiously Optimistic
It's hard for me at this point to be overly excited about Ultra, given that it will clearly be several years before my institution is even ready to seriously consider a move to Ultra. Little has been shared up to this point (hopefully we'll hear more at BbWorld in the coming days) on what a move to the SaaS cloud hosting environment will take for self-hosted clients and what the cost increases would be required of institutions to make this transition.
As a client who's institution is committed to Blackboard for the next 3 years but will likely be engaging in an LMS review in the coming year, I have a number of concerns at this point that stem from the many unanswered questions above that I hope over time and with more information will dissipate. It is my hope that Blackboard will make a major effort to begin reaching out to all self-hosted clients to communicate what the SaaS migration options and associated costs will be so that self-hosted clients can begin to chart a path moving forward.
I encourage you to check-out the Bb Ultra New Learning Experience for yourself by registering for free Blackboard Learn Ultra trial at try.blackboard.com
What are your thoughts on the Ultra New Learning Experience thus far?