By now, you likely may have already heard of the announcement from Google that Google Reader will be shut down as of July 1, 2013. Since the announcement, there has been much commotion online from loyal Google Reader users expressing their disappointment in Google for "pulling the plug" on yet another service that had many education uses. I thought I'd use this opportunity to reflect on my own use of Google Reader and RSS to this point, reevaluate what steps I will take moving forward to transition to a new solution for reading and sharing news online, and share the steps I have since taken to begin my transition away from Google Reader.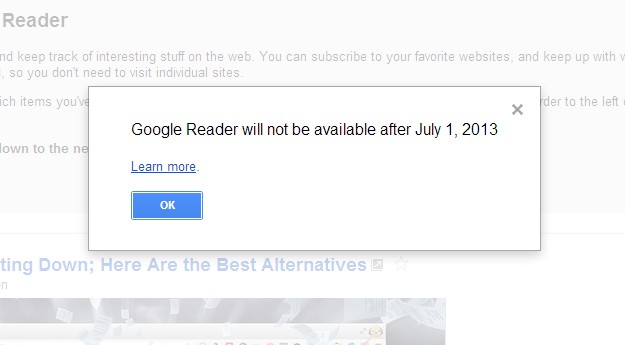 How I Use RSS Today
I began using Google Reader back in 2005 when it was first released as a Google Labs experimental project. At the outset, Google Reader was my sole solution for subscribing to blogs and also for setting-up and following Google Alerts for topic-specific news headlines. Over the years, as Google allowed through APIs for other services to access and manipulate RSS contents, I began to try other RSS aggregators and apps, most recently Reader, Flipboard, and Mr. Reader, that provided a better overall user experience (better UI, more sharing features, mobile-optimized, etc.).
Yet, Google Reader remained my central hub for news and information online. Subscribing to blogs and other news sites in Google Reader, it became the primary source for me to read and share news with others. I would star articles, search through my subscriptions for articles I had previously read, and share articles from Google Reader to other social media services using tools like Buffer. In fact, if you follow me on Twitter, the vast majority of the links that I've shared over the years came directly from Google Reader. the most compelling use of Google Reader.
Google Reader had become the "plumbing" for my online consumption and sharing of news and resources with others. While I was using other apps to manage my Google Reader subscriptions, read articles, etc., I was able to seamlessly move from one app to the other to read and share news as it happened, with the services I used syncing through Google Reader.
Why I Chose Feedly
While there are indeed many different options for subscribing to and consuming news content today, what I was looking for most was a great experience on my smart phone, tablet, and desktop computer which all would synchronize so that I could continue to move from one to the other as desired. I find that today I primarily read my news on my iPad, but also at times my iPhone when my iPad isn't handy.
In my searching, I came across Feedly's promise for a seamless transition for Google Reader users to it's Google Reader clone, Normandy. In addition, I saw that Feedly already had mobile and tablet apps along with a desktop browser plugin that would all synchronize my activity for now over Google Reader, and eventually its new cloud-based synchronization platform Normandy. That was enough to convince me….I decided to give Feedly a try!
Thus far, the experience has indeed been seamless and I recommend that those looking for a replacement to Google Reader definitely try Feedly.
Getting Started with Feedly
If you already have a Google Reader account, getting setup on Feedly is simply…just login with your Google account that you used for Google Reader. I'd recommend then taking this brief guided tour as well as viewing the following tutorial to get an understanding for how Feedly is similar, yet different from Google Reader.
I viewed both, and in no time I felt right at home in the Feedly mobile app as well as browser interface. I was able to setup my Pocket (used for saving select articles for reading later) and Buffer (used for time-delayed sharing on Twitter) accounts within to easily share to either of those services directly from within Feedly.
In short, so far I am very pleased with Feedly and do hope that Feedly takes advantage of the opportunity created by Google Reader's demise to grow their features and API integrations with other services. Only time will tell…
Have you tried Feedly? If so, what has been your experience thus far? Or, if you are considering a different news reading tool, which one and why? Leave a comment with your thoughts!