From time to time I'm asked what books I recommend for someone interested in learning more about Web design. For those interested in a bit more step-by-step guidance with the basics of Web design, here are two books that I have in my personal library and I highly recommend.
---
Learning Web Design: A Beginner's Guide to (X)HTML, Style Sheets, and Web Graphics (3rd ed.). ISBN 10: 0-596-52752-7
This thoroughly revised edition teaches you how to build web sites according to modern design practices and professional standards. Learning Web Design explains:
How to create a simple (X)HTML page, how to add links and images
Everything you need to know about web standards — (X)HTML, DTDs, and more
Cascading Style Sheets — formatting text, colors and backgrounds, using the box model, page layout, and more
All about web graphics, and how to make them lean and mean through optimization
The site development process, from start to finish
Getting your pages on the Web — hosting, domain names, and FTP
Learning Web Design starts from the beginning — defining how the Web and web pages work — and builds from there. By the end of the book, you'll have the skills to create multi-column CSS layouts with optimized graphic files, and you'll know how to get your pages up on the Web.
The book includes exercises to help you to learn various techniques, and short quizzes to make sure you're up to speed with key concepts. If you're interested in web design, Learning Web Design is the place to start.
---
The Non-Designer's Web Book: An Easy Guide to Creating, Designing, and Posting Your Own Web Site (3rd ed.). ISBN: 0-321-30337-7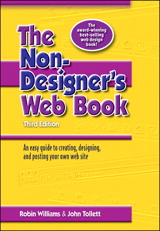 If you think web design is beyond your reach, or if you want your existing web site to look more professional, this thoroughly updated classic is the place to turn! In these pages, best-selling authors Robin Williams and John Tollett share the creative ideas, useful techniques, and basic design principles that are essential to great Web design-all in the context of the most current technology, software, and standards. Throughout, the authors' aim is to inspire you and spark your creativity rather than sedate you with pages and pages of code. To that end, you'll find loads of real-world examples, interesting illustrations, and the simple instructions you need to implement the techniques and concepts described in these pages.