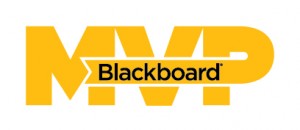 It's a honor to have been recently named an inaugural member of the Blackboard MVP Program, which recognizes individuals who have established themselves as thought leaders in educational technology by sharing their expertise in Blackboard platforms.
Blackboard MVPs are users who stand out as an expert in Blackboard technologies, share their expertise with other clients, demonstrate leadership in the education technology community, and actively share feedback with Blackboard. While the MVP program will be peer-nominated in the future, the inaugural class of 17 was selected by Blackboard.
Here's a quick video intro I recorded for the program.
I look forward to continuing to share on my blog tips, how-to's, resources, and best practices for teaching online using Blackboard. You can subscribe via RSS and also follow me on Twitter @jrhode