On Friday, 9/21/2012, I was able to get my hands on the new iPhone 5. I thought I'd share a few of my first impressions here. But first, a little bit of background…
Background
As a long time Verizon customer (primarily because I have not AT&T coverage at my home and Verizon is the only carrier that provides reliable coverage both at my home as well as our cottage in WI where I spend much of my summer) I was among the first users of iPhone 4 where it finally came to Verizon back in April 2011. As a Mac user and one who is comfortable in the Apple ecosystem, the iPhone quickly became the essential technology device that I use constantly throughout my day. Because I was one of those "early adopters" on Verizon, the 2-yr contract that I signed on for included unlimited data on 3G. As I often have found myself in situations where I need Wi-Fi access, I also have the tethering option (2GB/month) and frequently am using my iPhone as a Wi-Fi hotspot over 3G.
The announcement of iPhone 5 was exciting for me, primarily because I was eligible for a discounted upgrade on 10/11/12 and I've been longing for LTE speeds. The iPhone 4 has been, and continues to be, a fantastic mobile device and I do still highly recommend it. For me, since I do rely on the hotspot capability frequently, and the fact that I live and work in areas that have LTE coverage with Verizon, the promise of much faster download speeds was the feature that ultimately was enough for me to upgrade.
I went ahead and sold back my iPhone 4 to Gazelle, so in order to receive the offered amount, I need to have it in the mail back to Gazelle by Oct. 1st. I figured I'd just go a couple weeks without a phone so that I could get the most possible cash for my current iPhone.
I called Verizon and they confirmed that on Oct. 11th I'd be able to upgrade to the new iPhone 5 with the subsidized amount. Yet, because I am a grandfathered unlimited data user, if I were to sign-up for a new 2-yr contract (needed in ordered to purchase iPhone 5 with the carrier discount), I'd have to forfeit my unlimited data plan. Instead, I'd be signing-up for one of Verizon's "Share Everything Plan" that would end up costing me more per month than what I'm currently paying for data and tethering. While I don't often go over 2GB of data on my current iPhone, the unlimited data perk is one that I didn't want to give up if at all possible.
In my discussions with Verizon, I learned that if I were to indeed pay full retail price for an iPhone and in essence not extend or renew my current contract, I'd be able to keep my unlimited data plan on the much faster 4G LTE. While my tethering option of 2GB of 3G data on my current plan for $20 would need to be upgraded to LTE data for an extra $10/mo, I would then have UNLIMITED tethered data over LTE! Basically, for $10 more per month, I'd have not only unlimited data over LTE on my iPhone, but also unlimited tethered data over LTE when using my iPhone as a hotspot. For me, the promise of continuing to enjoy unlimited data was well worth paying the extra several hundred dollars for the full retail price of the iPhone.
After deciding that I wouldn't renew my contract, there was no need to wait until October 11th to purchase the new iPhone. However, by the time I had made my decision, there was a 4-week wait for pre-orders. I decided I'd try to get a phone when they went on sale on Fri, 9/21
Buying Experience
On Fri, 9/21, I needed to be at a meeting in Indiana at 12PM and would be driving from my home near Rockford, IL. Despite all the reports of people camping out waiting in line for the new iPhone, I decided I'd try just showing up at an Apple store and see if I could perhaps get a phone without an overnight wait. So, I chose to stop at the Apple Store at Woodfield Mall, Schaumburg, IL and arrived in line at 7:45AM, just 15 minutes before the store was scheduled to open. While I didn't count the number of people in line, there were easily over 150 people in line before me, some had chairs and obviously had been waiting quite a while, while many others like me appeared to have just arrived that morning.
At 8AM, the store opened to cheers from the employees and those in line and quickly the line started moving. It was remarkable how quickly the line moved. As the line moved along, I was able to see that there were several Apple associates who had a box of what looked like small cards. What I learned they were doing is asking those in line what carrier, size, and color they were in line for and would then give a card for the device they would be purchasing. Some were buying 2, but most were just purchasing 1.
When it was my turn to state which device I was in line for, I asked for a Verizon, 64GB, black, but they only had white still available. While I was hoping for black, I opted for white so I could still walk away with my phone that day.

Card I received for my white, 64GB, Verizon iPhone
After a few more minutes of waiting, I was finally in the store and minutes later, I walked out with my new iPhone. In total, I spent 55 minutes from the time I stepped in line, until I walked out of the store with my iPhone. I opted for the AppleCare+ coverage as well. All in all, I was so really pleased to have been able to leave that day with phone in hand.
Unboxing and Setup
As I didn't return home from traveling for work until Saturday afternoon, that was my first chance to get my phone setup. I personally still backup my iPhone via iTunes on my laptop and so my first step was to do a full backup of my iPhone 4. I had already updated my iPhone 4 to iOS 6, so I'd be able to easily setup my new iPhone by doing a restore from my iPhone 4 backup.
My next step was to unbox my new phone and restore from the iPhone 4 backup. The process was seamless and within a matter of approximately 15 minutes my iPhone 5 was setup.
The final setup process was to call Verizon and activate. Because I had the unique unlimited plan, I needed to call and speak to Verizon customer service rep and ask that they simply replace my iPhone 4 on my plan with the new iPhone 5. While one the phone, the customer service rep also updated my tethering plan from 3G to LTE. It was just a matter of a couple minutes, and my new phone was activated and ready for use. Everything transferred over, including previous voicemails, messages, etc…completely seamless! Now, it was time to start trying out the new phone 🙂
First Impressions
While I've only used iPhone 5 over LTE on Verizon for just 24 hours or so, here are a few of my first impressions:
I like white. While in line, I talked with two different Apple Store associates, each of which said they had purchased one color themselves, but now wish they'd purchased the other. Coincidentally, one purchased black, the other white. Now that I have the white, I do like the color, especially the aluminum back.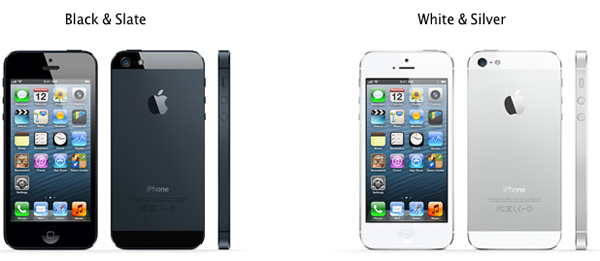 LTE is fast!. I had heard from others how much quicker LTE seemed as compared to 3G, and it is true that the speed difference is amazing. The speeds are definitely comparable to broadband access that I have at my home.
The 4″ screen size is perfect. I was a bit skeptical when Apple announced that the screen size would be enlarged, as I really don't want to have to use 2 hands to operate my phone. The slightly larger screen size is the perfect length for me to be able to reach both the top and bottom of the screen with my thumb. I don't have overly large hands, so I suspect the same will hold true for most people. The experience of using a thumb as Apple advertises is exactly what I've experienced.
iPhone is fast. Apps load notably faster than on my iPhone 4 and it overall seems even more responsive than before.
AirPlay mirroring is great. The AirPlay mirroring over Wi-Fi to my AppleTV works just like advertised. It just works, and does so flawlessly.
Camera is faster. On my iPhone 4, there was a notable delay after taking a photo, before the camera was ready to take another photo. On iPhone 5, the camera is much more responsive and I've been able to take photos in rapid succession without delay.
Those are just a few of my initial impressions of iPhone 5. Overall, I'm really glad to made the upgrade.
Have you also upgraded to iPhone 5? What was your experience like? What were your first impressions? Feel free to leave a comment with your experiences.