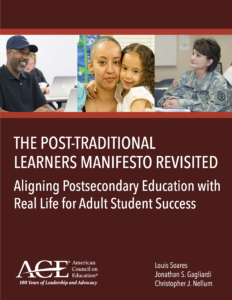 Building on ACE's long history of supporting both post-traditional learners and the higher education institutions that serve them, The Post-traditional Learners Manifesto Revisited explores the distinctive nature of modern undergraduates. Using data from the National Postsecondary Student Aid Study 2011-12, the report digs deeper into the needs of this population of college-goers and offers recommendations to help schools, researchers, and policymakers better help thi​​s growing population of postsecondary students complete their degrees.
The analysis revealed that post-traditional learners—students who are either over the age of 25, working full-time, financially independent, or connected with the military—make up nearly 60 percent of the undergraduate student population. They are a diverse group with a range of education needs, encompassing many life stages and identities, which need to be considered when designing higher education business models tailored to them.
This paper follows on from the Center for Policy Research and Strategy's previous study, Post-traditional Learners and the Transformation of Postsecondary Education: A Manifesto for College Leaders​.​
The Post-Traditional Learners Manifesto Revisited: Aligning Postsecondary Education with Real Life for Adult Student Success (PDF) 0.6 MB