Recently, I had the opportunity to join my colleagues from the Online Learning Consortium (formerly Sloan-C), MERLOT, and the Emerging Technologies steering committee to share a sneak peek of what lies ahead at #et4online. We hung out to share details about the upcoming conference being held April 22-24, 2015 in Dallas, Texas.
Who attends #et4online?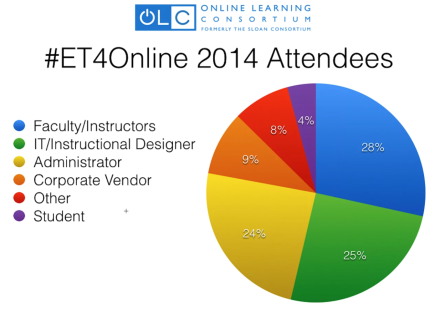 Or hear what the #et4online Steering Committee Members have to say in our 1/30 Google+ Hangout ON AIR (recorded):
Michelle Pacansky-Brock Conference Chair – @brocansky
Jason Rhode, Assistant Conference Chair – @jasonrhode
Jane Moore, MERLOT Program Chair – @janepmoore
Laura Pasquini, OLC Program Chair – @laurapasquini
Here are just a few of the MANY highlights for the #et4online program that we shared:
The Unconference – dig into topics and direct the agenda as you like it
Technology Test Kitchen – a maker space to explore, play & learn for ed tech
Keynote & Plenary Speakers – talks about connection to learning, networked identity, collaborative knowledge, and then some
Featured Sessions & Workshops – are just a few of the program items NOT to miss and learn from
Discovery Sessions with VoiceThread – to augment interaction and learning between presenters and attendees
The Launch Pad & Teacher Tank- Where #edtech start ups can show case their wares to our Ed Tech "sharks." Submission Deadline Closes February, 13, 2015 – apply now!
Interested in attending (virtual or on site)? Register TODAY! Early bird pricing ends on February 25, 2015. Do you have questions about the conference or program? Leave a comment or hit me up on Twitter @jasonrhode