From time to time I'm asked what books I recommend for someone interested in learning more about blended learning. For those interested in a more in-depth read, here are a few on my bookshelf that I highly recommend. Most of these should be available via your local institutional library.
---
Blended Learning in Higher Education: Framework, Principles, and Guidelines by D. Randy Garrison and Norman D. Vaughn. (2007). ISBN: 0787987700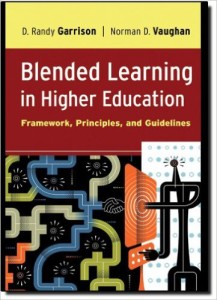 In this much-needed book, authors D. Randy Garrison and Norman D. Vaughan present the foundational research, theoretical framework, scenarios, principles, and practical guidelines for the redesign and transformation of the higher education curriculum.This groundbreaking book offers a down-to-earth resource for the practical application of blended learning in higher education as well as a comprehensive examination of the topic. Well-grounded in research, Blended Learning in Higher Education clearly demonstrates how the blended learning approach embraces the traditional values of face-to-face teaching and integrates the best practices of online learning. This approach has proven to both enhance and expand the effectiveness and efficiency of teaching and learning in higher education across disciplines.
Blended Learning in Higher Education
Outlines seven blended learning redesign principles
Explains the professional development issues essential to the implementation of blended learning designs
Presents six illustrative scenarios of blended learning design
Contains practical guidelines to blended learning redesign
Describes techniques and tools for engaging students
Available in paperback or Kindle versions from Amazon
---
How to Design and Teach a Hybrid Course: Achieving Student-Centered Learning through Blended Classroom, Online and Experiential Activities by Jay Caulfield (2011). ISBN: 1579224237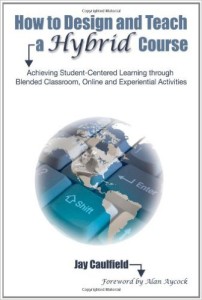 This practical handbook for designing and teaching hybrid or blended courses focuses on outcomes-based practice. It reflects the author's experience of having taught over 70 hybrid courses and having worked for three years in the Learning Technology Center at the University of Wisconsin-Milwaukee, a center that is recognized as a leader in the field of hybrid course design.
Jay Caulfield defines hybrid courses as ones where not only is face time replaced to varying degrees by online learning, but also by experiential learning that takes place in the community or within an organization with or without the presence of a teacher; and as a pedagogy that places the primary responsibility of learning on the learner, with the teacher's primary role being to create opportunities and environments that foster independent and collaborative student learning.
Starting with a brief review of the relevant theory – such as andragogy, inquiry-based learning, experiential learning and theories that specifically relate to distance education – she addresses the practicalities of planning a hybrid course, taking into account class characteristics such as size, demographics, subject matter, learning outcomes, and time available. She offers criteria for determining the appropriate mix of face-to-face, online, and experiential components for a course, and guidance on creating social presence online.
Available in paperback from Amazon
---
Blended Learning: Across the Disciplines, Across the Academy (New Pedagogies and Practices for Teaching in Higher Education) edited by Francine Glazer. (2011). ISBN: 1579223249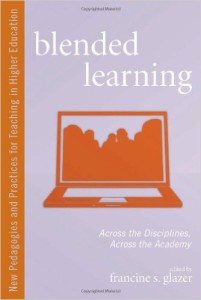 The book constitutes a practical introduction to blended learning, illustrated by implementations across a broad spectrum of disciplines. It enables faculty unfamiliar with this mode to address the core challenge of blended learning―to link the activities in each medium so that they reinforce each other to create a single, unified, course―and offers models they can adapt.
This book contains examples of specific blended courses and frank discussions of the challenges unique to each course. Each instructor used blended learning differently to address those challenges, so five different types of course design are presented. Blended learning is a flexible pedagogical tool that can be used in many different disciplines and implemented as many different ways to engage students and enhance their learning.
Available in paperback or hard cover from Amazon
---
Essentials for Blended Learning: A Standards-Based Guide by Jared Stein and Charles R. Graham. (2013). ISBN: 0415636167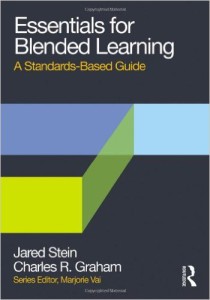 Essentials for Blended Learning: A Standards-Based Guide provides a practical, streamlined approach for creating effective learning experiences by blending online activities and the best of face-to-face teaching.
This guide is:
Easy to use: Clear, jargon-free writing; illustrations; and references to online resources help readers understand concepts.
Streamlined: A simple but effective design process focuses on creating manageable activities for the right environment.
Practical: Real-world examples from different subject areas help teachers understand principles in context.
Contemporary: The variety of modern, connected technologies covered in the guide addresses a range of teaching challenges.
Forward-Looking: The approach bridges the gap between formal classroom learning and informal lifelong learning.
Standards-based: Guidelines and standards are based on current research in the field, relevant learning theories, and practitioner experiences.
Effective blended learning requires significant rethinking of teaching practices and a fundamental redesign of course structure. Essentials for Blended Learning: A Standards-Based Guide simplifies these difficult challenges without neglecting important opportunities to transform teaching. This guide is suitable for teachers in any content area.
Available in paperback, hardcover, and Kindle from Amazon
What favorite books of yours regarding blended learning did I leave off my list above? Leave a comment with your recommendations.