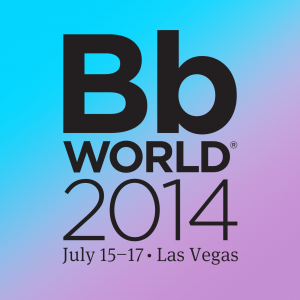 I'm fortunate to be able to attend BbWorld for the third straight year. In additional to presenting this year, I'll also be spending time at the Knowledge Bar with other BbMVP's in addition to facilitating on open discussion about Enterprise Surveys and Course Evaluations in Blackboard. I'm also honored receive a Blackboard Catalyst Exemplary Course Award.
Here's a list of the presentations I'll either be giving or be a part of at BbWorld…
Scheduled Presentations
Being Present and Engaging Students Online Using Blackboard Video Everywhere
Learn about one instructor's use of YouTube's free and easy-to-use features incorporated in Blackboard for recording, editing, captioning, and embedding video into his online course. An overview of the steps for recording, editing, captioning, video in YouTube will be provided as well as examples shared for various approaches for seamlessly incorporating video into any online course. A summary of feedback survey results from students regarding their experiences with video in the course will be shared as well as lessons learned by the instructor for those wishing to follow the same suggested steps for incorporating video in their own course. Participants will have the opportunity to ask questions throughout the session and see first-hand a demo by the instructor of how the video was seamlessly incorporated into Blackboard Learn.
Date/Time/Location: Tue, 7/15/14, 2:45PM-3:30PM, Murano 3304
Presenter(s): Jason Rhode
Blackboard Catalyst Exemplary Course Award Poster: Instructional Media and Technology
Poster for 2014 Blackboard Catalyst Exemplary Course, ETT 510: Instructional Media and Technology, taught by Jason Rhode, Ph.D., fall 2013
Date/Time/Location: Tue, 7/15/14, 5:00PM-7:00PM, Exhibit Hall
Presenter(s): Jason Rhode
Trends in Online Learning
What's holding you back from growing your online presence? Based on research with hundreds of your peer institutions, this session will explore how the use of collaboration tools, mobility, and more will be changed by shifts in student demands and the fight to attract and retain students. Join this session, led by a panel of academic technologists to learn how leading schools are thinking about online learning in the future and what you should be thinking about as part of your long term strategy. (This is based on a webinar held in April of 2014 that was very popular.)
Date/Time/Location: Wed, 7/16/14, 9:15AM-10:00AM, Murano 3301
Presenters: Jason Rhode, Melissa Stange
Enterprise Surveys and Course Evaluations: An Open Discussion of Feature Gaps
Join us for an open conversation on the feature gaps and workarounds that institutions are employing in attempting to implement the functionality. I plan to take notes of the conversations and will plan to share here on my blog as well as LinkedIn for those who can't attend.
Date/Time/Location: Wed, 7/16/14, 4:00PM-5:00PM, Veronese 2401A
It will be a busy week, but one in which I am looking forward to! Let the presentation preparation begin.
If you'll be at BbWorld, look me up! I'll be tweeting @jrhode and will share my presentation slides and other resources here on my blog. I will try to also blog my experiences at BbWorld.
Looking for Presentations Slides/Handouts?
I will be posting the slides and accompanying resources from my BbWorld presenters here on my blog along with any other BbWorld-related reflections. Enjoy!