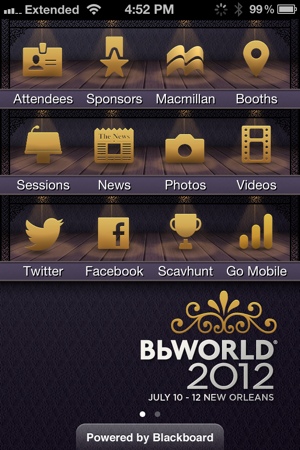 If you are heading to BbWorld 2012, be sure to download the free BbWorld app just released today! You can download it from the iOS App Store here or from Google Play store here.
At first glance, this sessions listed in the app only include BbWorld sessions and not also Bb Collaborate Connection Summit sessions that those attending BbWorld are also able to attend. It would've been nice to have those sessions also included, as I personally plan to attend a mix of BbWorld and Bb Collab Connections sessions and can't use the schedule planner within the app as an all-inclusive conference planner.
I'm certainly not complaining though…it's great to see an app available for the conference! Go grab the app and check it out for yourself.