As part of the 2014 Teaching with Technology Institute at Northern Illinois University, I led a breakout session for faculty where we explored creating a course wiki.  We looked at both 3rd party wiki tools as well as integrated course wikis within the learning management system (Blackboard), using a sandbox wiki on Jottit. The following are links to the resources and I shared regarding wikis during this session:
What is a Wiki?
Collaborative website where all participants have equal ability to make change to content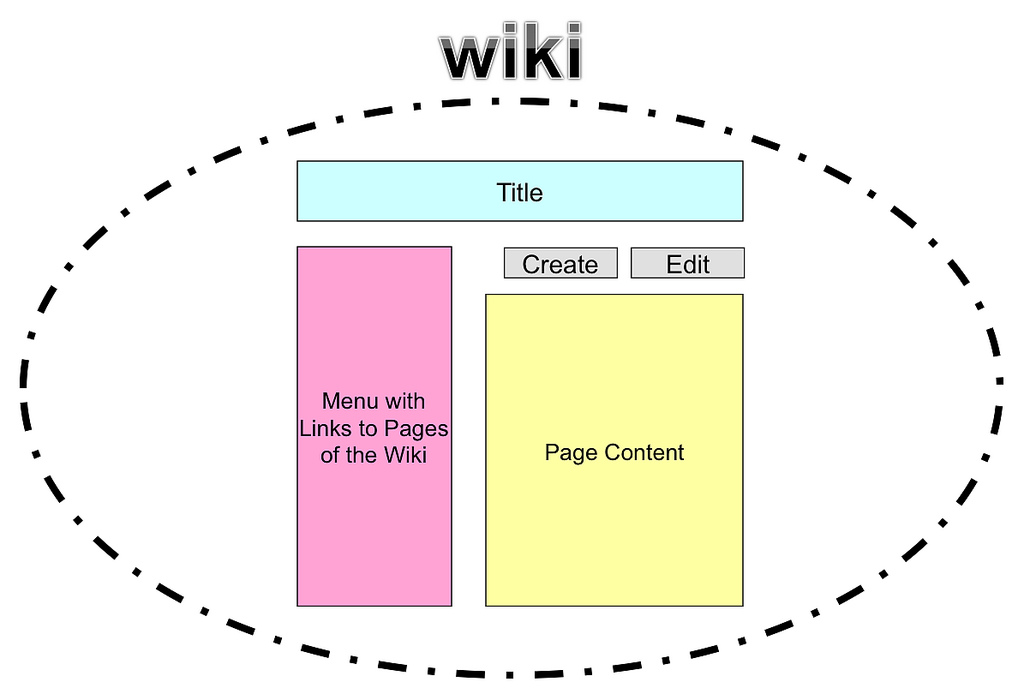 Key features:
Easy to use
History of contributions
Ability to revert to previous versions
Why Wikis in Higher Education?
Facilitate constructivist approaches to learning
Equal "voice" for all participants
Students retain access to constructed knowledge after course ends
Can be public or private
Easy to use; no advanced programming skills needed
View and contribute from any Internet connection
Uses of Wikis
E-portfolios
Group collaborations
Soliciting input from others
Presentations
…any collaborative content creation activity!
Wiki Activity Ideas
Brainstorming of ideas
Outlining text materials
Drafting weekly summaries of instructional content
Collecting bibliography of supplemental resources
Creating interactive glossary of key terms
…the list goes on, limited only by your imagination!
Sample Wikis
Free Wiki Tools
Selecting the Right Wiki Tool
Does you institution already offer and/or support a wiki tool?
Is free hosting available?
Is a "WYSIWYG" (What You See Is What You Get) editor built into the wiki?
Is special "wiki markup" needed for advanced editing?
How long with the wiki be available to students?
Can pages be made either public or private?
Can other files be uploaded & stored with wiki pages?
Can other media elements be embedded in wiki pages? (e.g. videos, spreadsheets, calendars, etc.)
How well does the wiki tool integrate with other online services?
How stable is the wiki hosting provider?
Wiki Resources
Tips for Teaching with Wikis
Decide whether to use single wiki for class or multiple wikis (e.g. each group)
Provide suggested organizational structure or create empty pages (recommended)
Customize navigation for easy access (ie: links to pages)
Create sub-pages within hierarchical structure
Tips for Designing Wiki Activities
Specify clear purpose for use of wiki
Provide expectations and structure for contributions
Allow time for students to become familiar with the wiki tool (e.g. make contributions to individual page)
Include instructions for use and/or links where students can find more information (e.g. screencast instructions)
Wiki Issues and Limitations
Authorization of users (ie: users must have a login to the wiki tool)
Monitoring for inappropriate user
Risks to allowing manipulation of site data
Structuring initial content and pages can be a challenge
How one accesses information, navigates, creates links, etc. must be addressed early
Represents collective perspective
Blackboard Wikis vs. 3rd Party Wikis
| | | |
| --- | --- | --- |
| | Blackboard Wikis | 3rd Party Wikis |
| Access | Only registered students and instructor can access in Bb course | Can be made available for anyone to access publicly without a Bb login |
| Availability | Available to students and instructor for duration of course | Available to students, instructor, and potentially others after course ends |
| History | History of changes tracked and can easily be compared, reverted back to | History of changes tracked and can easily be compared, reverted back to |
| Integration | Can be easily graded using interactive Bb rubric and feedback securely provided to students in Grade Center | No integration for grading in Bb |
| Security | Student-created content is secure and only available for other students in the course to view | Depends on the wiki tool selected |
| Support | Support offered by Blackboard support personnel | Depends on the wiki tool selected |