Archives for February 2014

Courtesy e-Learning Infographics
UPCEA has made freely available the recording of Cable Green's general session presentation titled, "Innovation, Access, and Open Education: The Business & Policy Case for OER" at the recent Summit for Online Leadership and Strategy. While the slides are available here, the recording is now available here.
To view the rest of the Summit For Online Leadership and Strategy's program you can purchase the Online Pass.
The national initiative, the State Authorization Reciprocity Agreement (SARA) will create interstate reciprocity in the regulation of postsecondary distance education. The four regional higher education compacts – the Midwestern Higher Education Compact, New England Board of Higher Education, Southern Regional Education Board, and Western Interstate Commission for Higher Education, will collaborate to make distance education courses more accessible to students across state lines, as well as making it easier for states to regulate and institutions to participate in interstate distance education.
During this 75 minute recorded webcast from 1/23/14, Marshall Hill, executive director of the National Council for State Authorization Reciprocity Agreements (NC-SARA); Rhonda Epper, director of WICHE SARA; and Russell Poulin, deputy director for research and analysis at WCET.
The webcast covered:
Key facts about SARA
How your state and institution can participate
The projected timeline for implementation
Resources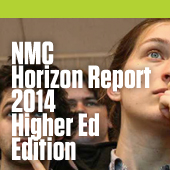 The NMC Horizon Report > 2014 Higher Education Edition is a collaborative effort between the NMC and the EDUCAUSE Learning Initiative (ELI). This eleventh edition describes annual findings from the NMC Horizon Project, an ongoing research project designed to identify and describe emerging technologies likely to have an impact on learning, teaching, and creative inquiry in education. Six key trends, six significant challenges, and six emerging technologies are identified across three adoption horizons over the next one to five years, giving campus leaders and practitioners a valuable guide for strategic technology planning. The format of the report is new this year, providing these leaders with more in-depth insight into how the trends and challenges are accelerating and impeding the adoption of educational technology, along with their implications for policy, leadership and practice. View the work that produced the report at www.horizon.wiki.nmc.org.